I won't do that opening paragraph about the year's movies and try to make some statement about film or whatever, but I will declare that Twin Peaks: The Return was by far the best thing I saw in 2017.
I made a montage of the year's films + my top 10 that you can watch here! https://vimeo.com/258874952
Honorable Mentions: I'm a Davies agnostic but A Quiet Passion is maybe my fave of his I've seen. . mother! is insane. Brawl in Cell Block 99 is insane. Dawson City: Frozen Time was cool. Ditto Raw. Love the energy of Baby Driver. Pissed myself laughing during The Disaster Artist. The Big Sick shows the romantic comedy can be as entertaining as any other genre. Love the ambition of The Square. Faces Places is a delight. Graduation draws a city maze of corruption. Lady Macbeth stars Florence Pugh, and, uh, wow. Idk if I actually *liked* this, but The Killing of a Sacred Deer is arthouse Saw and that is…. a choice. I've soured on Three Billboards outside Ebbing, Missouri but I still like its biblical themes of violence, grief, and forgiveness.
Didn't see: Lover for a Day, The Other Side of Hope, Loveless, On the Beach at Night Alone, Ex-Libris, The Death of Louis XIV, Jane
25. The Shape of Water – Gushingly earnest and on-the-nose but I admire its weird romanticism. Tho I wish it leaned into its Universal horror roots rather than Sirkian melodrama.
24. Landline – Jenny Slate.
23. Get Out took a sharpened knife to the vein of the zeitgeist.
22. Star Wars: The Last Jedi – An imperfect, but immensely well crafted sci-fi film about legacy that has the same creative energy that made the first two Star Wars films great.
21. My Happy Family – Just watch this. It's on Netflix. It's free to watch. For your enjoyment.
20. The Lost City of Z – The transcendent final 15 minutes made me reconsider the first two acts that I'd found somewhat strained. It's a long and clinical film, but Gray rewards you if you lend yourself over.
19. The Lure is the best mermaid musical of the year.
18. It – This isn't a great film, but when watching it I don't care that it's not. For a generation, it is their A Nightmare on Elm Street. When was the last time a horror film felt like an event? It is packed with fun, Evil Dead-ish scares, but its excitement of youth's never-ending summers and the terrifying moment when childhood ends is nearly as potent as King's other pop culture landmark: Stand By Me.
17. The Beguiled – Still waiting for Sofia Coppola to drop a film as great as her first 3, but there are flashes of greatness in this steamy southern potboiler. *Elle Fanning voice* Apple Pie?
16. Stronger – It's a tragedy that a film this good got lost in the Oscar shuffle. It *may* have the best shot of the year. You'll know which one.
15. Logan – There's been a lot of films about old movie stars and old movie heroes reluctantly returning for a final quest, but this is the best of the bunch, and, by far, the best superhero movie of the past few years; it's not even close.
14. The Trip to Spain – I know I just said there's been a lot of films about old heroes returning for a final quest and that Logan was the best of them but I lied. Steve Coogan and Rob Brydon going on food quests across Europe and battling their midlife crisis is, ahem, inspiring.
13. Blade Runner 2049 – I still think this is a flickering shadow of the original, bound by imitation, and I like it as a piece of pulp noir more than a Blade Runner sequel. 2049 is a film about being a shadow and accepting that you're not special, but finding solace in that realization. K's arc mirrors the film itself, and I wonder if that's intentional.
12. The Work – A documentary, taking place in Folsom prison, in which decades of repressed feelings are violently ripped out of their masculine facades during a group therapy session.
11. The Post – Spielberg moves the camera better than any director, ever. Here he merges his recent historical dramas with the serial adventure of his Indiana Jones films. The script lays it on thick, but Spielberg almost wills the on-the-nose flaws to his advantage — using them like giant swells of music in his orchestral filmmaking.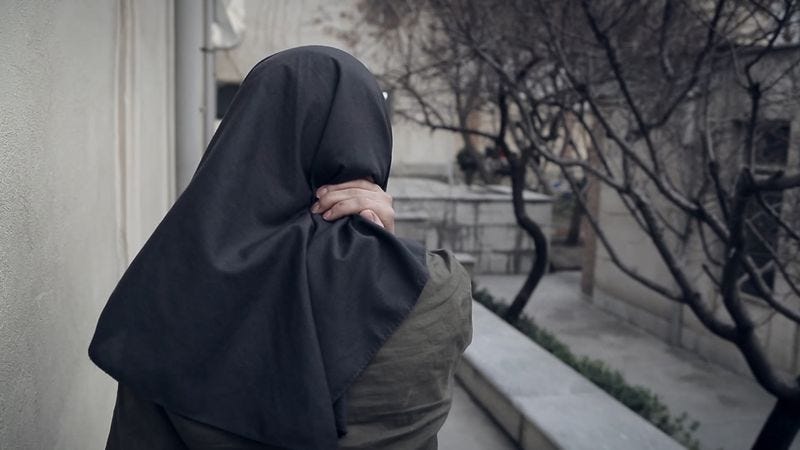 10. Starless Dreams – This documentary about an all female Iranian prison is the most stirring and emotionally conflicting film of the year. It zeroes in on stories untold, while unraveling live's lost and the avenues they've become trapped in.
9. After the Storm – "Are you who you wanted to be?" "I'm not. Not yet."
Damn.
8. The Florida Project – Walking out of this I wasn't sure how much I liked it. After sitting with it I became moved by its larger context and understanding of cycles of behavior. I admire its collision of documentary-esque naturalism and childlike wonder. Sean Baker never passes judgment on these characters, and the film is all the more heartbreaking and illuminating for it. Just on the edges of Disneyworld, the film is an inverted mirror of "the happiest place on earth." A hidden world lost in the fringes of society. In such a place the only way you can escape is your own mind.
7. A Ghost Story – Grief told from the point of view of the cosmos, of the dead, as it stares back at life. I love how simple its imagery is. The Casper costume, the old spaces they once lived together in. The silent stares. Also, how did that bed sheet never get dirty?
6. Lady Bird – Sixteen Candles, but not racist, and better. This high school era was about 5 years before my own, but I fully recognize it. The details. The fashion. The music. The way people talked. Watching Lady Bird is like reading your high school journal, no matter what era you came of age. Greta Gerwig pulled off a similar feat in Frances Ha (co-written with Noah Baumbach), in that she writes so truthfully that when I walked out of the movie I was embarrassed because I felt like everyone in the theater had just seen my life, feelings, and thoughts projected onto the screen and back at them.
5. Call Me By Your Name – There's a moment late in this film when Oliver consoles Elio and the film enters a memory and the colors are hyper saturated; both heightened and faded, nearly gone. I legit thought the screen in the theater was messed up. It cuts back to Elio and there's a different look on his face now. What was there is gone. I can't fully explain what that moment did to me, but it physically hurt. These expressionistic moments are held back throughout Call Me By Your Name's summer vacation. The film basks in the mundanity of summer, but its introspective moments of discovery are profound, just as they were in youth. "Blessed be the mystery of love."
4. Personal Shopper – Kristen Stewart shopping for clothes, investigating ghosts, and overcoming grief. Honestly, what more could you want from a movie.
3. Good Time – My favorite sub-genre is "person explores the seedy underworld of the city during the night." Obviously I loved every second of Good Time's roller-coaster ride into New York's midnight abyss. Pattinson is incredible as Connie, a man who's trying to escape an inescapable maze. The pulsing score propels him from strange vignette to stranger vignette. When the high wears off and Connie's ride ends, a melancholy surfaces to put a lump in your throat.
2. Phantom Thread – PTA made this movie with black magic. If you showed it to me in black and white, and if I didn't know the actors, I'd think it was from the 40s. And in color it sometimes feels like a lost Kubrick film. Its gothic romance is haunting and its screwball comedy is giggle-inducing, but what has stuck with me is its spiritual threading that ties together Reynolds and Alma and the entire film. I've thought about the image that Reynolds sees when he's sick in bed every single day since I've seen the film.
1. Dunkirk – A soldier's face. The pounding of gunfire. A purgatorial beach with endlessly crashing waves. A city in flames. Floating corpses. A light guiding soldiers out of a sinking ship. A young man fading into the black of the sea. Men and women sailing on boats to save their sons. A throttling score mechanically in sync with the actions of soldiers, fathers, pilots. A nod of acknowledgement between two men. Harry Styles. A pilot gliding down onto a sunlit beach. A boy quietly reading Churchill's speech as Britain cheers on their returning sons. A burning spitfire fading into a soldier's realization. A Christopher Nolan film.
What were your favorite films of the year?