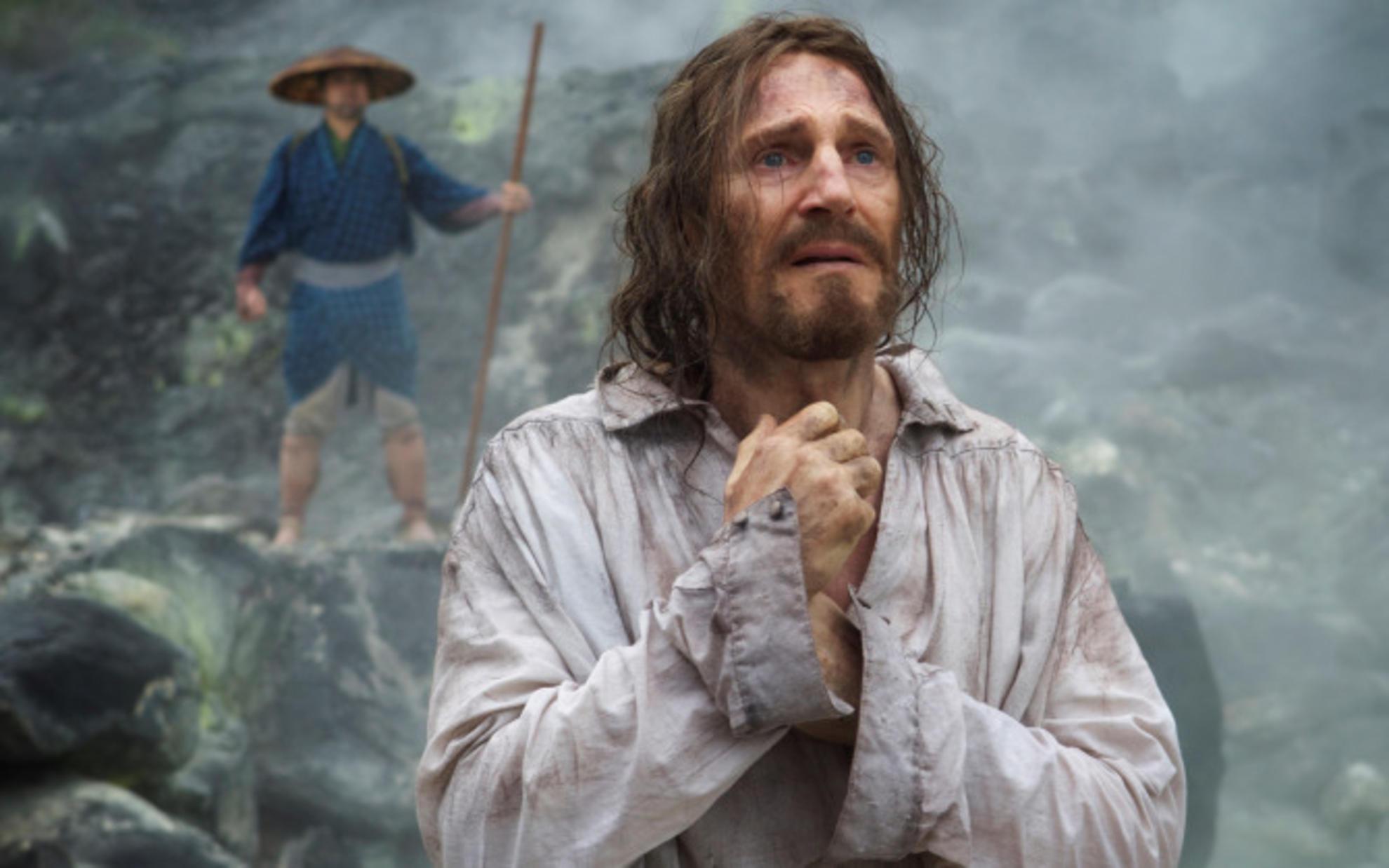 For a subject as complex and multifaceted as religion, most films about the subject are either propaganda or black and white morality tales that make my eyes roll back 180 degrees. But every once in a while a master like Martin Scorsese takes on the heavens to deliver a transcendent vision of man's soul. In Silence, Scorsese peers down on 17th century Japan as two Jesuit missionaries, Father Rodrigues (Andrew Garfield) and Father Garrpe (Adam Driver), trek into the hostile land of Japan to find their old mentor, Father Ferreira (Liam Neeson), who has been rumored to have given up the faith.
Silence could and should be viewed as a sequel to The Last Temptation of Christ and Kundun, the first two films in Scorsese's unofficial spiritual trilogy. Raised by a devoutly Catholic family, and once set to be a priest, Scorsese's entire filmography is filled with Catholicism. Almost all are about guilt or some devotion that has replaced religion like power (Goodfellas), fame (The King of Comedy) or wealth (The Wolf of Wall Street).
Scorsese's most popular films show men corrupted by dangerous lifestyles, and romanticize their excess to critique them from an omniscient point of view. This all-seeing POV hits a crescendo in Silence, an objectively agnostic meditation of faith and its opposition, which grows foggy and elusive the farther that the men of cloth travel into Japan's swamp. This passion project—30 years in the making—is Scorsese's obsessions brought to an emotionally wrenching and grueling surface that quietly asks BIG questions and receives no answers.
Sebastião Rodrigues is Scorsese's new excessive character, albeit one that precedes gangsters, boxers and wall street wolves by centuries and is instead drowning in a recess and searching for excess. And Rodrigues' only excess (Religion) is constantly attacked and belittled. Garfield does subtle, deeply moving work as the torn soul; conveying anguish and emotion with the tiniest of details. Early on Rodrigues and Garrpe experience "success" in locating a group of hidden Christians, but word of traveling Samurais outlawing Christianity sends them into hiding. While hidden they briefly wander out into the sunny garden of the Japan forest and the sight of a falcon is called "God's sign" by Rodrigues, but this brief bite from the forbidden fruit is seen by the traveling Samurais and a Pandora's box of horrors is unleashed.
Suspected Christians are placed on crosses in the ocean and slowly drowned. Others are wrapped in hay and burned. Scorsese's camera unrelentingly stares at all of this with indifference. Yet, the repetition of these horrors seems to ask the same questions that Rodrigues does. It listens and waits for God to answer, but all that is heard is silence. The soundscape maintains a white noise and nature dominated silence as the film's central "sound," mirroring metaphysical silence and God's absence, which paradoxically, and quite cleverly, is the film's loudest element.
Apocalypse Now is the film that immediately comes to mind both in the similar plot of a fallen angel (Kurtz/Ferreira) and visuals of smoke and fog that visualize the murky morality and answers that are unable to be grasped. Sadly, there is no song by The Doors, but there is a mood throughout the film that "This Is The End." Bergman's obsession with god, and Kurosawa's samurai tales are obvious influences. Kubrick and Tarkovsky come to mind with their omniscient POV's. Specifically felt here is the latter's earthy aesthetic and suggestion that faith is the only solution to the silent void. There are no obvious homages, but instead applicable techniques from these other masters. I've found that is what separates good directors from truly great ones. This film's lurching between visual cinema and heavy dialogue occasionally feels abruptly and awkwardly edited, but there's almost nothing here that feels like fat. The script is tightly structured and each scene feels composed.
What plot Scorsese had leaned on in the 1st act nearly evaporates as Father Garrpe leaves the picture and we solely follow Rodrigues. The painterly landscapes and encompassing water (shot gorgeously by Rodrigo Prieto) surround him, but the person he listens for amidst the death and persecution of Christians, is never heard. We less follow the story and more let it surround us (if you're looking for something to grab onto you may become irritated or bored). While the opposition to Rodrigues' mission and ideology is tested, the questioning of whether he should escape death and renounce Jesus or die a martyr, becomes the film's driving question.
Asking that question is the best villain since Black Phillip haunted a family in 17th Century Massachusetts (The Witch, February 2016). Often, villains are superficially evil; they appear as outsiders who are angry and obviously in the wrong. Nope. Evil is your neighbor, the person you can have a conversation with but whose ideology seemingly attacks your own. It's simply in their nature and how they were raised.
Me the samurai, Inoue Masashige (Issey Ogata), also known as The Inquisitor, a tauntingly wicked figure reminiscent of Hans Landa, sent from the depths of hell to smirk and eradicate an ideology with a disturbing rationale. His Bond villain charm makes for a worthy and understandable antagonist that slowly breaks down Rodrigues' morale.
As if he's Goldfinger monologuing to an imprisoned Bond, he maniacally utters, "The price for your glory is their suffering!" To save imprisoned Christians, all Rodrigues must do is renounce Jesus by stepping on a fumie, a stone picture of Jesus. The Inquisitor's argument acutely points out Rodrigues' ego, and brings about questions of religion's purpose and its effect on humans. Rodrigues' moral dilemma takes up much of the 2nd and 3rd act and grows repetitive to display his faith. The length is a necessary evil to reaching the emotional exhaustion needed for the film's finale where the seven seals are opened and Rodrigues peers into the existential void.
There is an atmosphere of silence in Silence—both literal and figurative—suggesting that there is nothing. It's this haunted feeling of uncertainty and "impossible questions" that drives the film more than its 'Heart of Darkness' plot or Rodrigues' moral dilemma. This storytelling might elude some viewers unable to process films without answers or more traditional storytelling techniques, but if you're up to the challenge, your patience will be rewarded with a film that's more of an enlightening scripture than a standard movie.
Throughout, Scorsese's restraint has a Kubrickian omniscience (most obvious in the film's aerial overhead shots) but the camera's sparingly used gliding in and away from the characters feel like the film's god acknowledging them, and are the only moments that may speak to the film's meaning. To watch Silence is to be absorbed into an existential rorschach test. Answers are where you find them.
Here's a film whose ending references Citizen Kane and 2001: A Space Odyssey and it earns it through stunning craft and an obvious passion. Its mix of formal techniques sometimes feel a tad uneven, and a lack of rhythm in transitions between powerful visual sequences and heavy dialogue stop it from perfectly coalescing like Scorsese's masterworks. The late introduction of a 3rd act character and a distracting special effect are jarring as well. Yet, I have the feeling that multiple viewings will eradicate these minor complaints. Like Coppola's Apocalypse Now, Scorsese is reaching beyond his grasp and the sequences where he grabs a hold of something ethereal and unknowable are GOAT cinematic moments that shake you to your very core. I left the theater barely able to walk (lack of water may have been a factor) and emotionally exhausted.
This won't be the film from 2016 that I re-watch the most or enjoy the most, but it is 100% without a doubt the greatest film of 2016. Like his last film, The Wolf of Wall Street (a stone cold masterpiece), he's made a film that's simply operating on another plane and above most people's heads. It's a milestone for religious cinema that will one day join Andrei Rublev, The Seventh Seal, The Passion of Joan of Arc and more recently, The Tree of Life. Many filmmakers have looked above to ask questions that do not have answers. Here Scorsese asks "Is the silent void, torture or transcendence?" Silence, imperfectly, but miraculously, argues for both.
Grade: A