It's true that 2016 was a disappointing year for blockbuster/studio filmmaking — by far the worst crop of the entire decade — but, as always, it was a good year for cinema if you look in the right places. Documentaries were a particularly rich bunch. As you know, I consider myself a connoisseur of hangout cinema and teen cinema, both of which had some fantastic films and a few potential future classics. Overlapping with both of those was California cinema, the host of many of the year's best films. Interpretations of the sun kissed city ranged from a Malickian memory to a reclusive billionaire's theme park to a 1970s Looney Tunes noir to a 1950s musical dreamland to a dollhouse of bloodthirsty models. My #1 film is far and away the greatest film of the year, but my #2-8 are films that I will return to throughout my life.
Honorable mentions:
10 Cloverfield Lane is a twilight zone thriller that found originality inside the franchise business model. Weiner was a hilarious doc and also wayyyyyy more relevant than I'd have liked it to be. Ditto Green Room. Little Sister is a new Halloween classic. Say what you will about Hacksaw Ridge's hokey first half, but the second is so on the nose that you get a nose bleed; it's awesome. I liked Arrival's abstract qualities. The Shallows has Blake Lively vs a shark and I'm glad I could type this sentence. Elle is a mystery directed by Paul Fricken Verhoeven and stars Isabelle Huppert and that's an even better sentence. The Fits is a youth tale using framing and space as a tour of emotion where identity takes shape for a young girl. Swiss Army Man is a solipsistic character study told through bowel movements, lol. Dismiss Knight of Cups at your own peril. Malick's experiment has greatness in it. In a banner year for California films, The Love Witch was the most visually interesting and used its influences to become a genuinely relevant film. I appreciated Jackie's attempt at finding truth through myth. I also had to restrain myself from putting Black Mirror's San Junipero in the top 10.
Not yet seen: Kate Plays Christine, Cosmos, Julietta, Aquarius, American Honey, Fire at Sea, Nocturama, A Bigger Splash, Poster: Never Stop Never Stopping (I know)
Favorite film I saw for the first time in 2016: Fright Night (1985) dir. Tom Holland
Top 25 Films of 2016
25. The Handmaiden – Park Chan-Wook's 20th Century Korean thriller is a twistedly romantic magic trick of a film. Chan-Wook uses his impeccable craftsmanship to remake Wild Things, and it's a goddamn hoot!
24. Hail, Caesar! – The Coen's giggle inducing noir is a sneakily deep study of religion and the process of making movies. There have been some very good recent films about Hollywood and why movies are special, but Baird Whitlock's monologue played over smiling crew members is the best that it's been articulated.
23. Love and Friendship – Kate Beckinsale.
22. Rules Don't Apply – I'm one of maybe 10 people who saw this and were (correctly) on board with Warren Beatty's alarmingly sincere throwback to old Hollywood that is also sneakily about Beatty reconciling with himself.
21. Hell or High Water – If your dad asks for a movie recommendation, tell him to watch this. One last job + Bank robbing = good as hell cinema. It's full of delicate human details amidst a macho, cowboy, cat and mouse chase. This is how they used to make 'em, boy! *spits out giant loogie of tobacco*
20. The Edge of Seventeen – The heir to Ghost World; I love Ghost World.
19. Cameraperson – A documentary told through years of cutting room footage. Woven together they take on a monumental and relatable personal history that weaves through filmed memories. *extremely cinephile voice* "the power of cinema."
18. Toni Erdmann walks a high wire tonal balancing act and tbh I'm still trying to work it all out. I think I might love it?
17. O.J.: Made In America – I'm jealous of the high school/college students who will get to watch this doc when their teachers are feeling lazy. To be fair, no teacher could teach how this moment in time would shine a spotlight on American social rifts and how it signaled where America was heading.
16. the nice guys – As Shane Black's suburban world is intruded upon by a violent force, the cowboys are called back to restore order. This P.I. romp was plucked out of 1988 and dropped into this summer next to "generic superhero movie" and "recognizable content film." No film this year had the pure pleasures, gut busting performances and rewatchability of Black's Looney Tunes noir. Gosling and Crowe give career best performances as Abbott & Costello.
15. Ingrid Bergman: In Her Own Words – This home footage doc — initially screened at the 2015 Cannes film fest where Ingrid Bergman was paid tribute — has stuck in my mind as much as any other film this year. The expressionistic home footage mixed with anecdotes from her family create an emotional weight that makes it feel as if the images are from your own memory (similar to Cameraperson).
14. Paterson – I could've listened to the characters on the bus all day. The Moonrise Kingdom homage had me hootin and hollerin.
13. Sing Street – Where were you when you heard that song? Remember how it felt like you were understood? John Carney has bottled up that feeling of music composing one's identity in a tale of teen romance. The addictive teenage energy and blossoming romance already makes it a great teen film, but its understanding of sacrifice and the future is what pushes it into modern classic coming-of-age status. So, while La La Land will walk away with a gajillion awards, I urge you to watch this film if you haven't.
12. Moonlight – A landmark film for queer cinema and also one of the best recent films about the amoeba-like nature of identity. The film glides through universal feelings rather than plot. The final 30 minutes aches more than the generic adjective I could've typed. Helluva final shot.
11. Things to Come – Isabelle Huppert? Check. Philosophy discussions? Yep! A cat? Of course. Year's best final song and final shot? You're goddamn right. Mia Hansen-Love's drama about a middle aged woman seems like a descendant of Kieslowski's Three Color's trilogy. Love's film is much simpler in form, but she's similarly remarkable at making small incidents feel connected.
THE TOP 10
Manchester Illustration by Jon McNaught
10. Manchester By the Sea – Kenneth Lonergan's novel of a film is very obviously about grief, but it's the way it manifests that makes Manchester by the Sea so remarkable. It's infected a man's life and the location where the terrible event happened. The ocean's waves endlessly crash against the shore. Winter is relentlessly cold. The memories never unfreeze.
9. 20th Century Women – Mike Mills' film crosses off almost all of my personal cinematic obsessions: the 1970s, the 1960s revolution, Nixon era corruption, hangout cinema, young characters coming of age, the passage of time, Billy Crudup, Billy Crudup's hair, all things Koyaanisqatsi. Mills' Fellini-esque drama drops in on 1979 but attempts to unite past, present, and future. Its anecdotal memories and perspectives range from the depression era to some unknown time in the future. The narrated malaise is potent but never kills the Almost Famous-esque familial warmth. It's refreshing to see a coming of age film that focuses on the people who influenced the person who comes of age. 20th Century Women is more expansive than its hangout vibe suggests. It's about women at a specific time in history, pushing at the edges of an era, but fading into the next, along with the dying remnants of the 60s revolution.
8. Don't Breathe – Tip of the hat to Elle and Green Room, but I was most entertained & thrilled by this giddy grindhouse battle between final girl Jane Levy and Stephen Lang as the berserker from Gears of War. There's a great simplicity to the setup and situations the characters find themselves in. It's in-the-moment suspenseful filmmaking that feels of the same DNA as Carpenter's thrilling Halloween and Craven's grimy The Last House on the Left. Fede Alvarez's Hitchcockian clockwork scares and use of space makes him a must-watch filmmaker. The best studio horror film of the decade.
7. Certain Women – Tales of unrequited love reflected amidst a beautiful, but cold and unrelenting landscape. Kelly Reichardt's triptych tale of lonely Montana women links up its 3 stories even more poetically than Moonlight. The sound and image of a train in the film's opening signals an intrusion into this forgotten world. Certain Women peers into the crevices of geography and space while investigating moments so embarrassingly vulnerable that they're not able to be articulated through dialogue. I've come to call this technique of unspoken, repressed and lonely feelings, "Mad Men-ing." And hey, Lane Pryce is in this! A stack of sandstone was the most moving image of the year for me.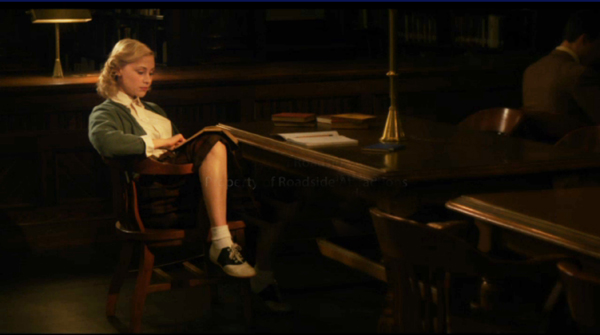 6. Indignation – Many great coming of age films this year, but this youth film — best described as a coming of death film — emotionally destroyed me more than any of them. In a 1950s Ohio college there is a melancholic and existential horror drifting through campus. Intellectual Marcus Mesner — who might as well be named Holden Caulfield — pushes against authoritarian systems of religion and government. His rosebud is Olivia Hutton (a mesmerizing and heartbreaking Sarah Gadon), the mysterious blonde whose entire existence feels like a miracle and a tragedy. Lerman is solid, but if Mesner was cast right this could've been "M" word great. Still, it is a hugely ambitious work and when everything aligns it's unbearably moving. Roth's POV reaches down from some cosmic corner of the universe and channels a profound understanding of human connection and the passage of time. Indignation is lost pages of a diary — never to be read.
5. The Witch – Robert Eggers quotes Dreyer, Russell and Bergman in this instant classic horror film. Abstract terrors come from deep in the woods to infect this 17th Century New England family. Eggers forgoes gore and pop out scares to find horror in imagery, faces, space, rhythmic editing, and the all consuming sound design that traps the audience in an auditory satanic dimension. He understands horror is about what scares the characters, and in turn, the audience. As his radicalized religious themes bleed into his monster, new questions are birthed as ideas and images found in the film's final third. Horrifying rhythms move beneath The Witch's chilly surface and break through in the most surprising of places. It may get lost in its own thematic forest of ideas but this black magic folk tale is the best pure horror film since Lars Von Trier's 2009 gender battle.
La La Land Illustration by Chris Gash
4. La La Land – Boy wonder Damien Chazelle captures lightning in a bottle in this levitatingly wondrous musical that both yearns for the films of yesteryear and understands that the world they inhabited can no longer can exist. It's a shame that this film has only been superficially discussed because it has more to offer than its light tone suggests. Chazelle's homage filled celluloid strip is a textbook on semiotics and a film that critiques its own form and existence. The final musical crescendo orbits around until finally landing in a place between a lump in your throat and one of those smiles you can't hold back. I'll concede that there are contrived character conflicts and pacing hiccups, but what works is the sort of stand up and applaud movie magic that you only get once a year. The Umbrellas of Cherbourg in Hollywood is almost toooooo good of an idea, but I see this film as less like its inspirations and more like Scorsese's Hugo (2011), a joyful ode to cinema and a euphoric film strip for all the romantics that wander into the desert of dreams.
3. The Neon Demon –  Pretentious or hypnotizing or hilarious or all of them or maybe it doesn't matter. I didn't have much more fun at the movies in 2016 than I did with this mad fairy tale concoction full of beasts, witches, princesses, and Keanu Reeves. Nicolas Winding Refn is a polarizing filmmaker (he's sooooo full of himself it's almost endearing), but few filmmakers dare to walk such a thin line between making something awful and amazing. Refn's cauldron of Los Angeles models battling for exterior and interior power is satirical, scary, hypnotic, and unafraid to be exactly what it's condemning. The deadpan humor either didn't work or went over people's heads but it had me in stitches. DP Natasha Braier paints the best cinematography of the year as she lights Los Angeles aglow as a dollhouse slowly being swallowed by a grim Grimm fairy tale. The shades of Twin Peaks: Fire Walk With Me, whether intentional or not, are spellbinding. It's a film you'd find in the back of the video store under the section called "Damien's picks" or some shit. This giallo covered in gory glitter fits his interests like a glove and is the hardest Refn has ever Refn'd. I'm fully on board with his transformation into Posh Dario Argento.
And now we come to best vs. favorite. #2 is the one I'll cherish and rewatch the most but #1 is a passion project that is undoubtedly a grand achievement from an old master.
.
.
.
.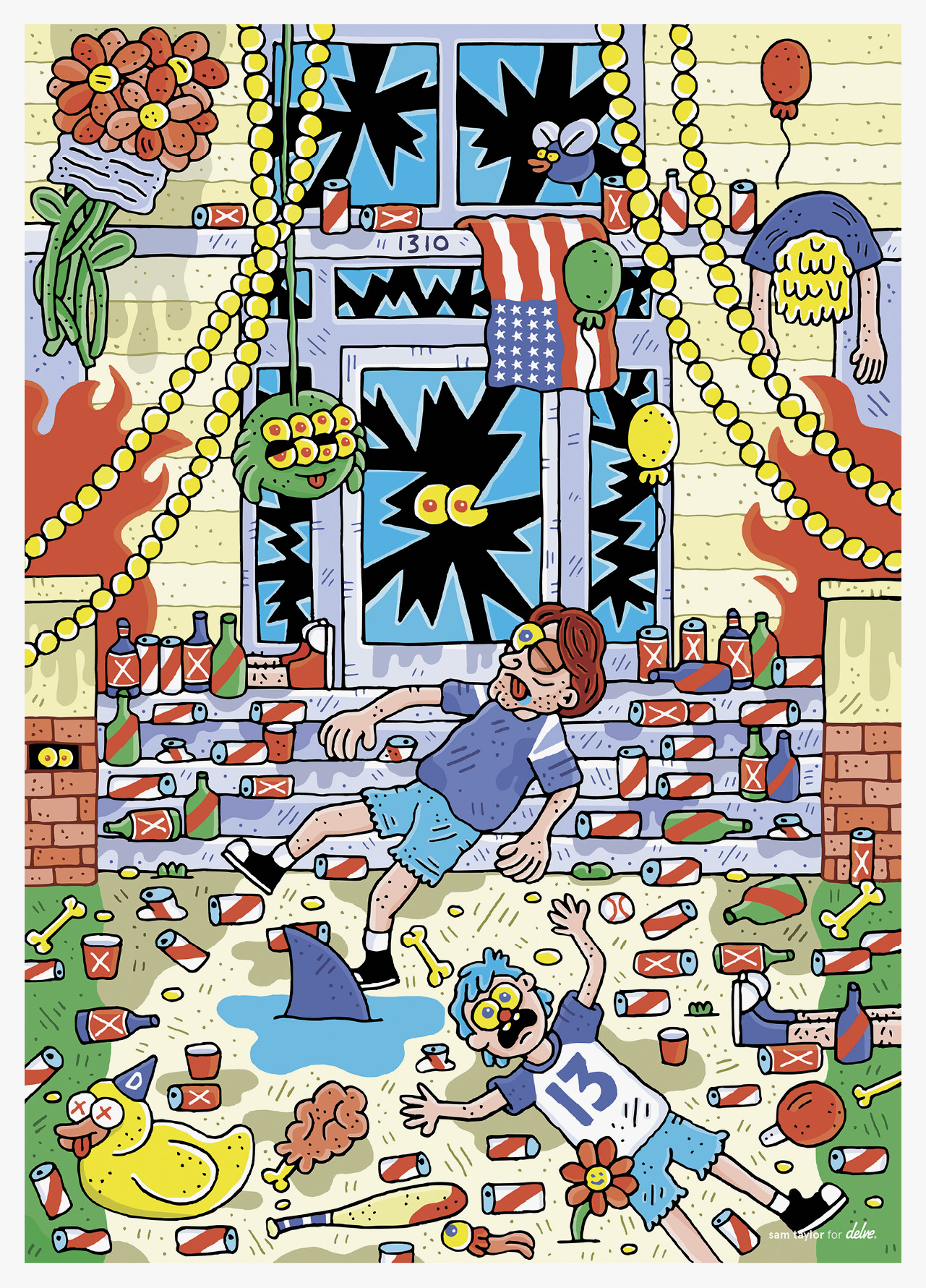 2. Everybody Wants Some!! – At the end of the film, amidst crude jokes and laughter, we enter Jake's POV as his teacher casually scribbles "Frontiers are where you find them" on the chalk board. This film about a college freshman and his first weekend with his dopey new baseball team is laced with the secrets to the universe that stare us right in the face. Another way to say that is to say this is a film by Richard Linklater, cinema's foremost insightful documentarian of everyday wonder. No modern filmmaker so easily articulates the plain magic of the human experience that can be found at any moment. Linklater's thesis of his entire career is that the insignificant is not only profound, but genuinely important. Like Dazed and Confused (my fave film), this plays more as a memory of this specific time rather than a document, but history itself is told through perspectives, and as the film points out: we are our own writers. This is Linklater's drunk album about the fleeting limbo between youth and adulthood — playing tracks full of booze, smoking, dancing, girls, and just hanging out. It's not as ambitious as his magnum opus, Boyhood, but it's sneakily profound and the flat out funniest of his entire filmography. A classic of hangout cinema.
.
.
.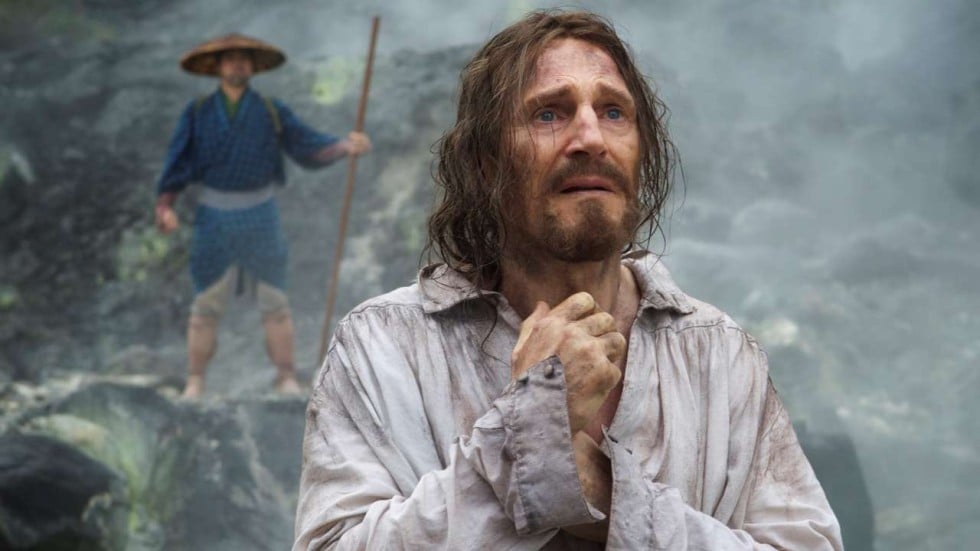 1. Silence – This is the film from 2016 I thought about the most, felt the most, admire the most and will study the most. Silence is the greatest and most essential film of 2016 — and it's not close. Martin Scorsese's missionary to the edges of the earth and into the heart of religion is a soul crushingly moving piece of art; a painterly study of faith and doubt that spans decades. It's a challenging, lost biblical tale asking if mankind is a slave to the monolith of religion or if it is our guide to the stars. Following Apocalypse Now's 'Heart of Darkness' blueprint, Andrew Garfield's Father Rodrigues narrates his path to reach Father Ferreira in the swamp of Japan. Scorsese's reach is occasionally beyond grasp, but what he grabs a hold of at points here is an unknowable answer to mankind's purpose. Any film that tries to quote both Citizen Kane and 2001: A Space Odyssey has some pretty big balls, but Scorsese pulls it off with a quiet passion and genuine curiosity for unanswerable questions. It's the type of film you'd see in the 70s that would be lauded and celebrated for its challenging nature and superb craft. In today's landscape it's met by audiences with silence. That's poetically fitting, and a sure sign that 10 years from now we'll hear the delayed applause it deserves.
Comment with your fave films of the year!