2016 is over halfway done and in general it is just. the. worst. (outside of Pokemon Go obvs) but let's forget about that and take a look at the best films of the year so far according to yours truly. In the past month I've not watched as much as I wanted to, but I've seen enough noteworthy indies, blockbusters, and bad films, to warrant a halftime list.
I tried to find a thread that connected the movies of 2016 thus far, but the best I could come up with was "disappointing blockbusters" and "good indies." Unoriginal, I know, but it's especially true this year. 2016's summer blockbuster slate is the worst of the decade, and a number of high profile smaller films that I hoped to love left me cold.
But, ya know, there's plenty of good stuff out there. Before I get into the goods I must mention notable films that I've not yet seen: De Palma, Weiner Dog, The Fits, Born to Be Blue, Weiner, and OJ: Made In America.
Here's a few films that didn't quite make the cut but should absolutely be redboxed/netflixed:
I'm still wrestling with the sparse Midnight Special and it's ending, but I love Nichols' previous two. Similar issues with the more fun 10 Cloverfield Lane. Love and Friendship is a delightful Jane Austen dramedy with Kate Beckinsale slaying. Green Room is a white knuckle thriller with Peckinpah bite. A Bigger Splash is a paradise of lost relationships starring Tilda Swinton AND Ralph Fiennes. Woofta! Krisha is a digital document of a torn family. The Shallows is solid "B" movie fun. Back in February the documentary Ingrid Bergman: In Her Own Words painted an expressionist home movie of the greatest actress to ever live. Swiss Army Man begins with a fart that makes you giggle and ends with a fart that puts a lump in your throat. Neighbors 2: Sorority Rising is as funny as it is progressive.
Top 5 favorite characters of 2016 so far:
5. Manny – Daniel Radcliffe in Swiss Army Man
4. Brendan – Jack Reynor in Sing Street
3. Hobie Doyle – Alden Ehrenreich in Hail, Caesar!
2. Jesse – Elle Fanning in The Neon Demon
1. Finnegan – Glen Powell in Everybody Wants Some!! (or any of the other dozen classic characters in the film)
The 5 best films of 2016 so far:
Honorable mention – The Nice Guys
Shane Black's return to noir is a great romp through LA that's filled with physical comedy, gut busting comedy, and bruising violence. I expect this will only grow with rewatches. Give Gosling the Oscar.
5. Hail, Caesar! –  You're walking through a studio backlot. Take a left and you're in a musical. Take a right and you're in a western. Look around and in you're in a Coen bros. picture. The Minnesota sibling's satire and tip of the hat to old Hollywood is a reconciliation with their own work, the era it comes from, and what the point of it all is. Brolin's Eddie Mannix fixes problems for the Hollywood studios, but when Clooney's dimwitted Baird Whitlock is captured by a group called "the future" it gets, well, it gets all Coeny! Add Marxism, macguffins, dialectics, silly gags, existentialism, a meandering plot and the Coens are at maximum Coenicity! They juggle a circus of tones and styles from different genres with an ensemble of lovable characters. Alden Ehrenreich's Hobie Doyle is the best of the bunch! But it all reaches back to Mannix's question of "what is the point of this?" The Coen's happily answer in the finale with Baird's monologue played over shots of the crew smiling. Hail, Caesar! presents the movie theater as church, filmmaking as divine creation, and movies as a religion. Whether or not any of it is "real" doesn't matter. If one believes in the illusion, it allows them to "accept the mystery."
4. Sing Street – John Carney's teenage musical is celluloid glee, the type of movie that transports you to a young person's life and it feels so familiar that it hurts. Young and optimistic Conor starts a band to woo a teenage girl named Raphina. His band members crawl straight out of a John Hughes movie, grab their instruments and start rockin'. Catchy tune after catchy tune harnesses the glory of the 80s with a pure earnestness devoid of any cynicism or nostalgia for nostalgia's sake. It feels like you're experiencing a person's recollection of a specific time and a place and a feeling. Of course that memory is John Carney's, and it's created one of the best coming of age films this century. And THAT dance number is the best scene of the year! Oh boy that dance number made me want to get up and cheer. Carney has fun playing with and subverting teen film tropes but the beautifully moving romance between Conor and Raphina is romantic candy. As it goes on, the film transforms from an energized homage to 80s teen cinema and slides into a personal letter about sacrifice and passion for art.
3. The Witch – Robert Eggers debut film could've been made in any decade and it'd be fondly remembered. It's a shame that it got made in the one decade that still hasn't found a place for films like this. It's shocking how impressive it is from performance to sound design to the dialect to the damn color of their clothes. It plants a radical religious family in the 1600 woods and lets metaphysical horrors trap them. The word "Kubrickian" gets thrown around a lot but it fits like a glove here. Eggers has absolutely no interest in cheap scares or pleasing you. The Witch is dedicated to scaring its characters on a higher plane of consciousness. If you're of the more intellectual film going mindset then you understand The Witch's deep terrors. In terms of formal power/technique it is unmatched by any film this year, yet I don't think the family deterioration entirely gels with the abstract horrors. Nor do I feel it has much rewatch value, but oh boy is it an impressive piece of filmmaking. The final 10 minutes are a stunning sink into evil. Why yes, I'd like to live deliciously.
2. The Neon Demon – Nicolas Winding Refn has exclusively made violent films about macho men, which is why The Neon Demon's subversive obsession over female power is such a bloody fun blossoming for him. Elle Fanning stars as Jesse, a young model who enters a glittery Hollywood that looks like a Mario Bava fashion show (Natasha Braier's cinematography is to die for)! A dark presence hovers over LA as Jesse stares up at the moon from the Hollywood hills. Abbey Lee and Bella Heatchcoate's rival models recall the witches in Macbeth, glaring at Jesse as though they've cast a spell. Jesse has that special "thing" they want, as does Elle Fanning who gives a mesmerizing performance. Refn's fairy tale is obnoxiously about the pursuit of physical and artistic perfection inside the external/internal forces that battle for it. The opening image of Jesse laying on a couch with blood covering her neck is a satirical stab at the fashion industry but it's also a haunting symbol of the commodification of youth. I laughed my ass off more than once, but there's also a calm sadness underneath the stylized bloody mayhem. Jesse's arc is one that feels caught in an endless cycle. That abstract entity, the "Neon Demon," lurks through the Hollywood night stealing dreams and replacing them with nightmares. Refn stumbles trying to conjure both LA romance and pulp here like he did in Drive (esp. in the 3rd act), but it's occasionally magnificent and there's a yearning soul inside the runway abstractions that is owed to the magnificent Elle Fanning. A cult classic.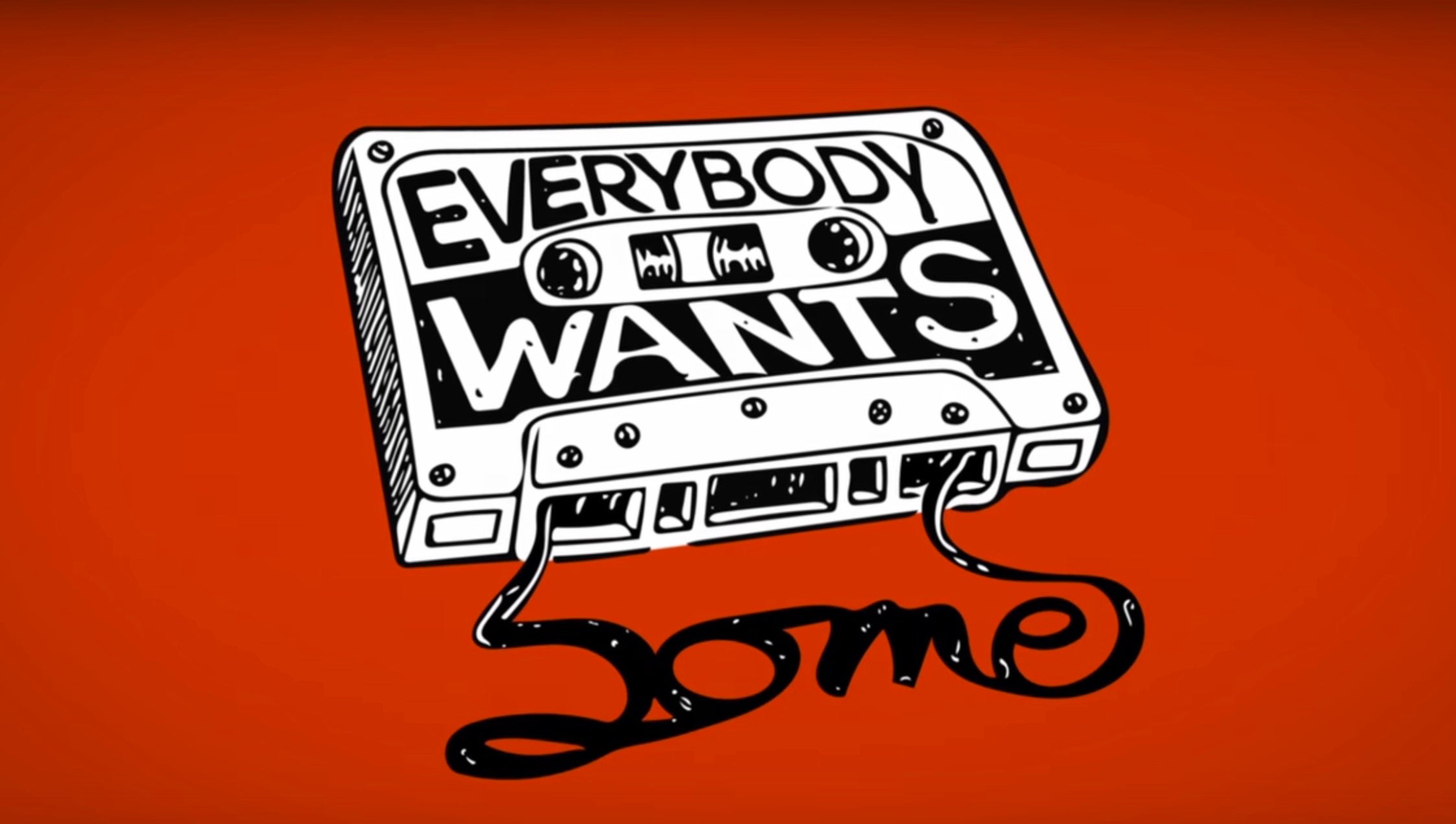 1. Everybody Wants Some!! – Richard Linklater is the master of finding magic in the everyday world. This party album chronicling the three days before college starts in 1980 Texas may be as sneakily profound as anything he's ever done. It's the spiritual sequel to Dazed and Confused, my favorite film. That film dropped up us into the drunk ecosystem of high school and captured the teenage wasteland of summer. Everybody Wants Some!! sets its sights on freedom and lives in the space between teenage life and the entrance into adulthood. The cast is pitch perfect with more than a dozen memorable characters. Glen Powell's philosophizing Finn is this film's breakout as he channels the aura of McConaughey's Wooderson. Freshman Jake is our tour guide as he bounces around like a ping pong ball between the everyday activities of these testosternauts. His eyes slowly widen as he's initiated into a new world with ideas and experiences buzzing around campus like constellations. Yes, it's laugh out loud hilarious with dozens of quotable lines and has an iconic soundtrack, but it's profundities are rolled up in dialogue like a celestial joint that we don't even realize we're smoking. The talk about astrology, searching for your "people" and finding meaning in things that seem small, takes the film to a cosmic level much like his coming of age epic masterpiece, Boyhood (2014). This existential party opus doesn't have that film's ambitions, but it similarly ends in the same place. No other director could film mud wrestling, slapping butts, and hitting joints to evoke questions of human connection, evolution, and the search for cosmic meaning. Not only is it the best college film ever made, it cements Linklater as the master of spaces in between moments on a macro and micro level. With his recent run of Before Midnight to Boyhood to Everybody Wants Some!!, we should start talking about Richard Linklater as one of the very best to ever make motion pictures.