The year is over halfway done so it's time to take a look back at cinema so far this year. I'll go through my quick thoughts on the year and then give you my top 5. I've not seen everything noteworthy but I've seen enough acclaimed films to warrant making a list.
I'm a few weeks late on this but I wanted to be sure to catch up on a few films before solidifying a best of the year list thus far. At this point last year my top 5 was
5. Snowpiercer 4. The Immigrant 3. Under the Skin 2. Enemy 1. Boyhood 
The top 4 made my top 10 of the entire year. This years crop is just as great as last years but in different ways. I suppose the over arching theme of 2015 has been great female characters and their stories Nearly all of this years best films have revolved around women and any best of the year list reflects that. I'd like to mention a few films that didn't quite make the top of the food chain, but remain good films that are required viewing at some point this year.
Inside Out took Pixar back to its glory days by taking us back to our own childhood and reminding ourselves that all feelings are important to reach catharsis. Love and Mercy showed us a idiosyncratic portrait of beach boy Brian Wilson. Blackhat is a flawed but misunderstood Bond art film crafted by the master Michael Mann. Spy was a nice surprise for a studio comedy. Far From the Madding Crowd has Carey Mulligan, stunning period costumes, and one of the best first acts of the year. Heaven Knows What is a heroin addiction docudrama that takes us into the junkie New York underworld. Faults has Mary Elizabeth Winstead enter a mind altering cult. Slow West delivered a western imbued with American identity. While some despised Jurassic World I thought it was a fine blockbuster thrill ride with Bryce Dallas Howard proving she is a badass star. 

There are still some films that remain elusive because of limited release or because I simply missed them: Buzzard, Trainwreck, Kumiko the Treasure Hunter, Eden, The Duke of Burgundy, Magic Mike XXL, The Look of Silence, L'il Quinquin, Phoenix, A Pigeon Sat On a Branch Reflecting On Existence
Top 5 favorite characters of 2015
5. Ava – Ex Machina
4. Immortan Joe – Mad Max: Fury Road
3. Amy Winehouse – Amy
2. Emily – World of Tomorrow
1. Imperator Furiosa – Mad Max: Fury Road
Now onto the very best of 2015 so far. This is really a top 7 list because I've got two Honorable Mentions: 
5. Clouds of Sils Maria (Oliver Assayas) – The legendary Juliette Binoche plays a neurotic actress and Kristen Stewart is her manipulative assistant. Both give incredible performances worthy of awards. We're given a backstage pass into the lives and world of entertainment, much like Amy did. The film plays like a more mysterious and cerebral cousin to All About Eve. Lines between fantasy and reality become blurred as a chess match wages on between the two women.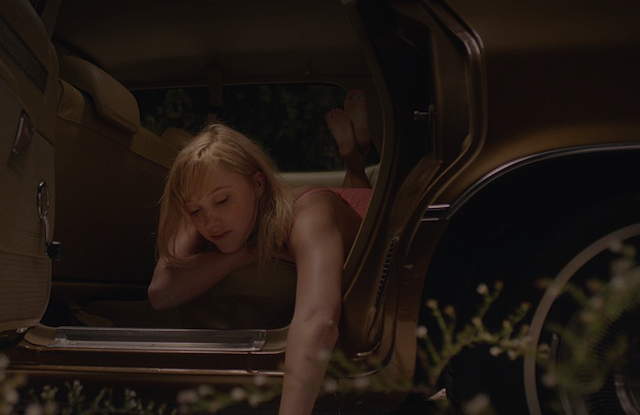 4. It Follows – So much to love here. The John Carpenter and David Lynch throwbacks. The electronic synth score. Maika Monroe. Detroit. This is horror working at its best with ideas and social/cultural fears taking the form of a monstrous entity. It Follows follows this template to near perfection as a concept. The only thing holding it back is a fumbled third act that doesn't quite know how to tie up its strings and messes with its own mythology to the point of losing scariness. David Robert Mitchell's command of tension ultimately makes up for any of its missteps. Thematically it's a fascinating essay about entering the adult world. Maika Monroe is a movie star in the making after last years The Guest (a must watch for fans of this) and her performance here. I find this film to be a cousin to one of my all time favorites, Donnie Darko. Both films follow a teen protagonist in a setting that feels out of time and place. Both are solipsistic and apocalyptic films about teenage angst and loneliness.
3. Ex Machina – A slick promethean thriller that plunges its triptych of characters into a sort of sexy mythic Turing test. Conversation and dialogue here make us feel like we're listening to the most important secret on the planet. Alex Garland's debut understands that less is more. In Ex Machina we observe the creation of consciousness in artificial intelligence but we're really interacting/engaging with a reflection of ourselves. There's great performances from Domhnall Gleeson and Oscar Isaac, but it's Alicia Vikander as the robot femme fatale that left me with my jaw on the floor. Also, the dance scene rules.
2. Amy (Asif Kapaida) – Lately I've been observing and thinking about America's (and the entire world really) mythologizing of artists, celebrities, and sports stars. It feels almost like an evolutionary instinct to build up people and then tear them down. Along comes this staggering documentary about the late Amy Winehouse. Kapaida's documentary is involving and haunting from the first frame until the last. I have no idea how some of this footage exists or how they got it into the film. From the age of 16 until her death at 27 we spend time with Amy in her most vulnerable moments. From the outside she was painted as a train wreck by the media, but the truth is far more sad and complex. As her fame grows you can feel the walls closing in on her and death feels sickeningly inevitable. It's been a while since I've left a theater so angry at our world. Perhaps the greatest talent of our time… gone. Deeply sad and heartbreaking.
1. Mad Max: Fury Road (George Miller)
70 year old George Miller's explosive, surreal, expressionistic masterpiece took over a decade to get made, and over 4 years to film and edit. Through his journey in the desert he brought back what is one of greatest pure action films EVER. Miller immediately plunges us into his visceral, immaculately crafted world. His Mad Maxverse is now a mythic punk rock circus opera with a venomous patriarchy raging on. Max returns to us as a mythic cowboy, this time played by Tom Hardy who brings a rugged masculinity and vulnerability to the tortured character. There's truck chases, car crashes, spear grenades, motorcycles jumping of cliffs, ghosts, fistfights, face painted warriors who worship V8 engines and spray chrome paint on their teeth so they may enter VALHALLA, but these are just icing on the cake. The film is the best looking western since There Will Be Blood. It's a feminist triumph; A subversion of action movies; A reverse film noir; it's got one of the best villains ever in Immortan Joe; it's the most surrealistic and weird studio film ever; it's got a blind guy who plays a guitar that doubles as a flamethrower. Miller somehow manages to simultaneously connect action, story, character, and theme with just images and little dialogue. It's pure cinema. By speeding up the frame rate and using kinetic editing he's effectively created a new film language. The anchor of the film is not Tom Hardy's Max, but rather Charlize Theron's Furiosa, one of cinemas greatest heroes. Their relationship subtly builds with just glances and stares that give more emotion and dramatic punch than most entire films. George Miller's operatic magnum opus is not just the best of the year, but among the top 3 of the decade, and perhaps even… the century.
So there it is. I'd strongly suggest watching those 7 films at the very least. I'd love to discuss in the comments section if you wanna chat about any of these movies. 
Five film's to look forward to:
5. The Revenant (Innaritu)
4. Steve Jobs (Boyle)
3. Star Wars: The Force Awakens (Abrams)
2. Carol (Haynes)
1. The Hateful Eight (Tarantino)